I created this page as a simple blogging reference guide with blog and website recommendations. Listed are all the blogging tools and products I personally use and recommend.
Included in this guide are favorite books, podcasts, and more for both online business and creative inspiration.
I think you'll find this guide helpful and easy to reference.
*Updated 1/03/22.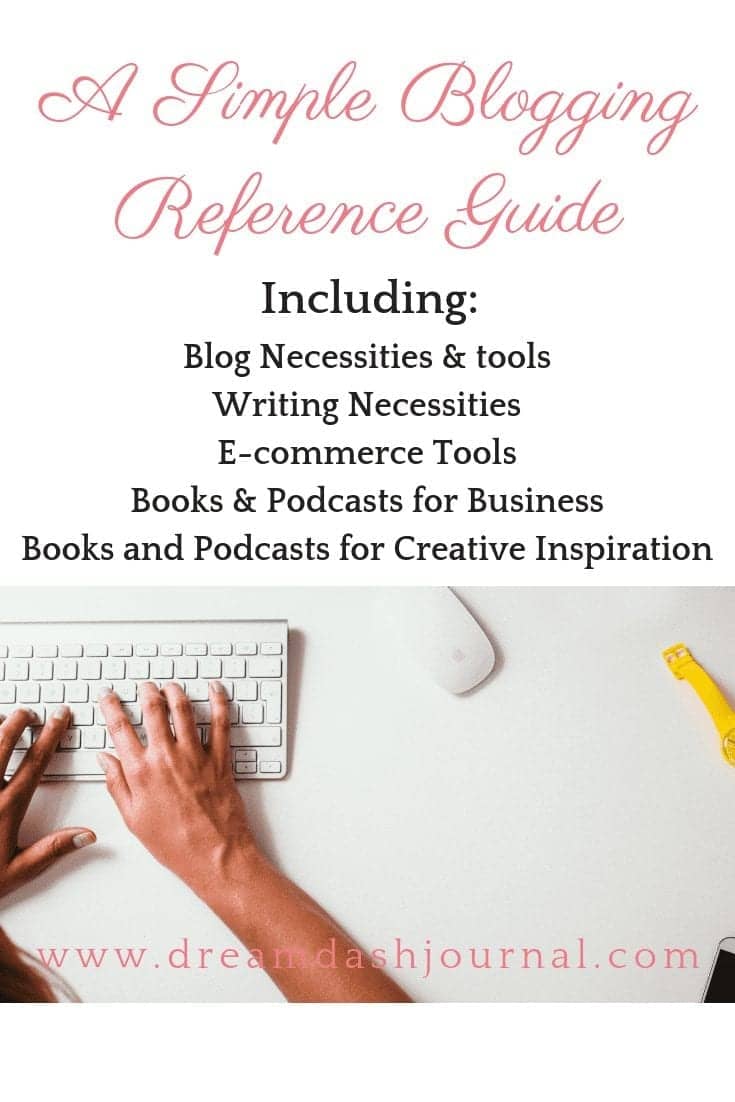 *This post may contain affiliate links, meaning I may receive a small commission at no additional cost to you for products you purchase via this website. For more information click here.
Website tools
Web host:
If you are just getting started blogging and want to spend as little as possible to begin, Bluehost is a good option. You can register your domain name and sign up for web hosting for around $3.95/month. Includes WordPress.org One-click installation straight from Bluehost.
If you have been blogging for a while and are looking for superior website speed, customer service, and security, I highly suggest Kinsta web hosting. I recently switched and cannot say enough good things about them.
I started with Bluehost, now I have Kinsta.
Website theme:
I use the Astra theme. The reason I use it is that it's fast. Not fancy, but speed matters more.
Blogging courses:
Fantastic beginner blogging course: Kickstart Your Blog.
SEO course: Stupid Simple SEO. This course is pricy but worth it! I just took this course in November 2021, but am seeing my traffic grow by implementing the techniques in this course.
Free entrepreneur planner:
This free planner printable will help organize all your blog and business ideas!
Blog marketing:
In addition to using SEO for ranking in Google, I use Pinterest to market my blog.
I love Pinterest, and using it to market and research is tons of fun. Pinterest can drive massive traffic to your blog. I barely do Instagram and don't bother at all with FB.
Pinterest marketing tool:
Tailwind– This app will help you spread your pins far and wide by pinning for you at automated set times throughout the day.
It's a great supplement to manual pinning, because there's no time to pin throughout the day.
Email list:
I like ConvertKit because I can offer multiple free opt-ins to collect emails- an essential feature that Mailchimp and other free email collection services lack.
Graphic Design
Canva- Create your logo, Pinterest pins, and other images. The basic version is free and includes a selection of free stock photos, vectors, etc. Canva is perfect for blogging.
I also just got an iPad, the Procreate app, and am learning to use Photoshop. All for my Etsy shop though, rather than my blog.
Stock photos:
I use stock photos from Canva premium or Unsplash. My pins do well on Pinterest these days without needing extra paid stock photography.
More recommendations:
Writing tools:
E-commerce tools:
Books for business:
Books for creativity:
Inspiring Podcasts:
I hope you enjoy these blog and website recommendations! And please leave your comments below, I'd love to hear them!
You may also enjoy:
How to Write Your First Blog Post in 9 Steps- Including a Snack Break!
The Weirdest Thing about Selling Printables on Etsy (That No One Ever Talks About)
How to Start Journaling for Beginners {With Free PDF Printable Journal Prompts}
25 Journal Prompts for Personal Development With Free PDF Printable