Feeling stuck and wondering how to write your first blog post?
Let me share with you a secret: You don't have to be an expert on anything to blog. You don't have to have a perfect outline or any professional writing experience. All you need is to find a way to contribute your authentic self to the www by writing what's fun for you to write. When you write what's fun for you to write, you keep writing more and more. You gain a readership and can monetize if you'd like.
Easier said than done, you say?
It can be overwhelming when you're just starting out. That's why I've outlined some simple steps you can take to get started. Learn how to write your first blog post and so you can finally just hit "publish." Nothing technical, just sharing my personal methods!
**This post contains affiliate links, meaning I may receive a small commission at no additional cost to you for products you purchase via this website. For more information click here.**
How to Write Your First Blog Post
You've got this! Stop procrastinating and go for it. Here's how to write your first blog post:
Step #1- Choose the right blog topic
Pick a topic that you're interested in. It's no fun writing if you're not enthused about your subject matter. You should have a lot to say about your chosen topic and/or the desire to research your topic to inform your writing.
Then make sure your topic is one your readers are interested in, too. Check around Pinterest and see if you find similar articles. See what comes up in Google's search results.
Going forward, you will need to learn how to do keyword research. I use Ahrefs for that myself and keyword research is crucial to blogging traffic. But like I said, I'm not trying to overwhelm you. Check that out when you're starting your second blog post!
Step #2- Create an Outline, However Rough
Sometimes this involves a few scribbles in your notebook. Or a word document. Just make a loose, rough outline. Allow yourself the freedom to be messy here and don't second-guess it too much. Grab the main ideas.
Step #3- Brain Dump
Try for sentences, but if they're piece-y and fragmented, that's Ok. All you're doing is throwing ideas into a big idea pile to be sorted after you've gotten the bulk of it out of your mind and onto the screen. Brain-dump everything pertinent you can think of here. Don't edit too much. This is your first draft.
Step #4- Do a Bit of Research
See what other bloggers and writers have to say on your chosen subject. See what headers they are using. What are the main points?
Read their words but try not to compare their work with yours. You are just starting! The purpose of doing research on the subject matter is to educate yourself. What else might you want to add to your piece?
Use proper attribution or paraphrase as needed and link to references.
Step #5- Go Back to Your Heart
Understand that your tone of voice, your topic choices, and the direction you take in your work is unique. It's all you. That's why after your first draft and added research, re-read and remember not only the point you're trying to make but what's in your heart. If what you wrote doesn't feel like you, edit it.
Learn to write blog style
Although you will want to write from the heart, learn to write like a blogger: concisely. Blog style writing is a specific style of writing. It's much different than writing a novel. Do some research on effective blog writing. I'm not saying I'm perfect at it, by the way 🙂
Step # 6 Edit Ruthlessly
I once had an art instructor tell me that it was better to ruin a piece of art by overworking it than to under-test its potential by not pushing it far enough. I agree with him. Don't throw away perfectly good ideas (save in a word doc) but do edit ruthlessly.
Challenge yourself to write your best.
Tighten up paragraphs or add detail where needed.
Eliminate run-on sentences, unnecessary bits, and tangents.
Ensure your message is clear, concise, and accurate.
Make your article easy to read or scan by using headers, subtitles, bullet points, and other visual elements.
Install Grammarly to catch your errors. The basic version is free!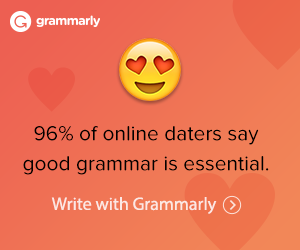 Step #7- Add Images and Links
You can find free images on sites such as Unsplash, Freepik, or Pixabay.
I used to use paid stock photos, but now I use images from Canva pro. You can also use your own photos.
Creating pins for Pinterest
Every blog post should have at least one Pinterest pin to start, (I recommend making more than one for sure but this is a post about writing your first article, so let's not get ahead of ourselves!)
You can create your pins on the free graphic design site Canva.
Add in your image/images and any links you're using to your blog post once you're ready.
Step #8- Snack Break
Take a break before you do a final once-over. Maybe some chocolate or coffee. And yes, it's 5:00 pm somewhere.
Step #9- Final edit & check SEO with Yoast plugin
Scan the text and entire body of your article to ensure it looks visually appealing, and easily readable, and to check a final time for errors.
Using the free Yoast SEO plugin, make sure your post is SEO optimized to the best of your ability.
I'm sorry I had to hit you with this little bit at the end of the post about SEO, but it'll be Ok, I promise.
SEO is not super hard. But it is a must.
I recommend you go down the rabbit hole on SEO immediately, which includes keyword research as mentioned. To start, you can download my free SEO cheat sheet by subscribing below!
When ready, hit publish!
Conclusion
Congrats! If you've completed these steps, then you have learned how to write your first blog post successfully.
I hope you enjoyed the process and found this article helpful.
The most important thing you can do next is to keep learning. Learn all that you can about SEO and keyword research especially.
Aside from learning, you have to keep writing.
Write another blog post, then another, then another into infinity. Push past the discomfort. Face the blog learning curve with tenacity and confidence. You're a writer, you can do this!
You may also like:
20 Feminine Handwriting Fonts Free for Commercial Use
15 Inspirational Quotes to Start Your Day with Motivation
The Weirdest Thing About Selling Printables on Etsy… That No One Ever Talks About
5 Ways to Unblock Your Mind and Shake Up Your Energy.
How to Write Powerful Intention Statements for Manifesting
How to Discover Your Divine Purpose {Find Your Heart's Calling}